Making your own minecraft server does not have to be a difficult task at all.  Especially if you choose to delegate certain aspects of the task out to others (namely the host that you choose to host your server).
There are many minecraft server hosts that provide "pre-made" setups.  Using these setups, all you as a user have to do is simply login to the host control panel.  You can then select the version of minecraft they wish to use.  Next, click the submit button and then simply sit back and wait for the hosts control panel to finish the work.  It will do this by installing all needed files, rebooting the server, and finally, announcing that the server is online and ready to enjoy. That's almost all there is to it!
If you are seriously considering making your own minecraft server, then be sure to join me on my discord server!
I can be contacted via my discord server; there I can help guide you with making a selection that suits your needs and wishes best!
I have tried numerous hosts, and would have to say that there are many fabulous companies that do provide professional server setups.  Some are very user friendly, and perfect for users who know nothing about programming.  This helps ensure that you can enjoy the full benefits of operating a minecraft server.
Some of the hosts are cheaper than others, some even free, and some can be downright expensive with their hosting package options!
When choosing a server host, consider these things:
Is it affordable? Can you see the expense worth the price?
Will the server lag? If it's a free or "cheap" plan, then you may have problems with lag once you get many players on your server.
How powerful of a server will you need? If you plan to run a basic Vanilla minecraft server with no bells or whistles, then a couple of gigs of ram will be all you need to ensure a very fun, lag free experience. If you wish to run a server with a lot of players, plugins or mods, then you will of course need a more powerful server.
How is customer support? Does the server host provide top-notch customer support, or is support non-existent?
How is the up-time? If your server is down too much, then this can kill player abilities and cause players to choose another server to play on. You will need a host that provides outstanding server up-time.
All of these things should be considered before you choose a hosting company for your minecraft server hosting needs.
I have tested numerous minecraft server hosts (more numerous than I care to admit).  I would like to share with you, the two that I have found to be the easiest to learn.  They also offer powerful server solutions, that provides outstanding server up-time.  Both of these hosts also provide GREAT customer support (this is a must-have for me).

The first, is Apex Minecraft Hosting.  The second is Meloncube.  Both of these companies provide outstanding service for your minecraft server hosting needs!
With these 2 server hosts; to get your server up and running,
all you have to do is select your package size (based on the type of server you wish to start),
sign-up for the selected server plan,
pay for the server and
wait for your welcome emails to arrive!
Everything else is provided by the host in a fast and efficient manner! (If you wish to have plugins or mods installed, Apex even helps with that!)
The Best Minecraft Server Host That We Recommend
If you wish to operate a server that you can build to suit your own personal needs and wishes, then I HIGHLY recommend Apex MineCraft Hosting.
Apex is the hosting company that I use for my main minecraft servers. I have found that when it comes to operating a server that I need to customize for our my needs and goals, then
the customer support provided by Apex is top-notch!
The servers are rarely down & support related inquiries are answered very fast.  Lag is rarely experienced unless I have a lot of players on the servers. And even then, it's usually client side, or a simple upgrade of my hosting package solves the problem.
I have tried multiple hosts as I sought a hosting solution that I could trust with my server "The Land Of Zolth".  I can honestly say that Apex truly does go above and beyond anything I expected in a server host.
Also, this company makes upgrading EASY for the perfect "Go As You Grow" solution! You can get a server that is on one of the smaller packages (say 1 gig).  As your player base grows, you can upgrade with almost zero downtime! Just select the upgrade option provided in your billing control panel.  Then pay for the upgrade and wait patiently a few minutes for the server upgrade to take effect.  It happens ALMOST INSTANTLY! A simple reboot, and your server is ready to go again.
A Simple Guide To Getting Your Server Up And Running FAST
We will be using Apex Minecraft Hosting to demonstrate how easy it is to get your server up and running.
First, visit the website, and select the "Pricing" option displayed in the top menu.
On the pricing page, you will need to select the package size that you wish to begin with.  If you are wanting to host a basic, vanilla minecraft server with no mods or plugins, then the 1-gig package will be sufficient for your needs. Remember, you can always upgrade easily as your player base grows!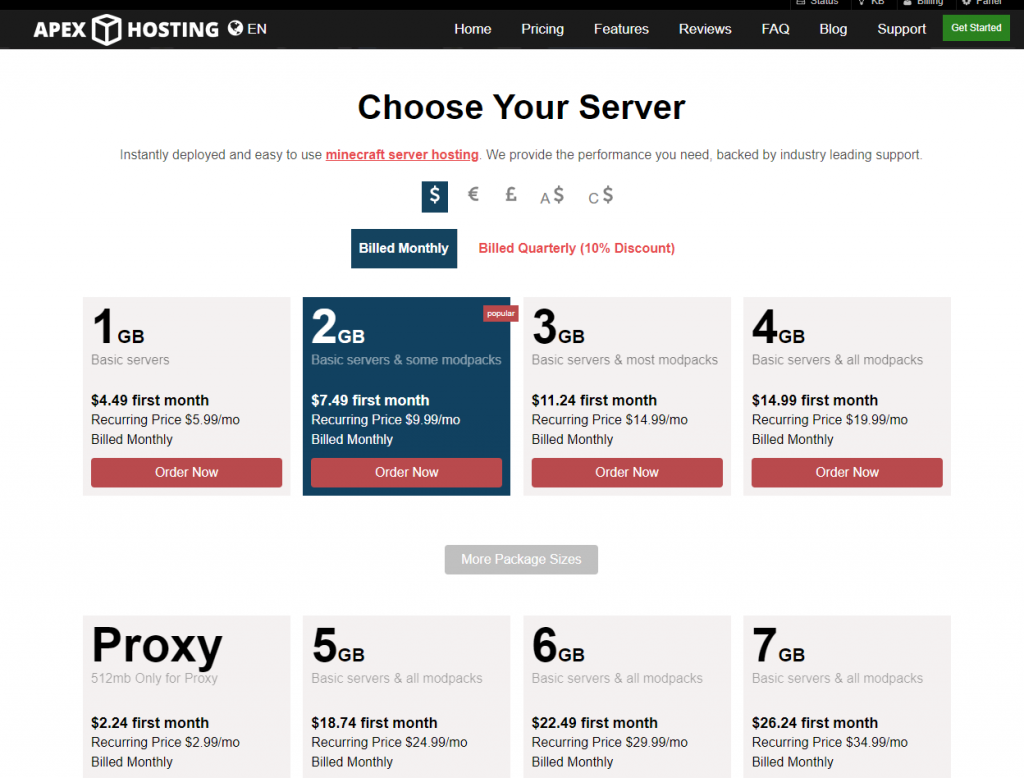 If you wish to operate a server where you will be using Spigot, Bukkit, Paper etc..  These are those which will require your own selection of plugins, then you should begin with at least 2-gigs and upgrade as needed. If you wish to host a pre-made modpack, such as Sky Factory 4 or any of the fabulous modpacks supported by Apex, then you should get the 3 or 4 gig package to start.
Once you have selected a package, you will then be directed to the server configuration page.
Choose the billing cycle (monthly or quarterly).  Add your minecraft server name & select a name for your FREE subdomain.  Next, select the minecraft version you wish to operate and then select the location that you wish for your server to be located.  The place closest to you is recommended.
You can also choose other options like premium support, plugin installation, modpack creation etc. These can also be ordered after you sign-up, if you feel that you will need them.  Or you can select these later if you ever run into problems that you'll require assistance with.
Once you have configured your server, you will be directed to the payment page. There you can make payment, finalize the order, and VIOLA…wait patiently for your welcome emails that provide your server information, including server login information.
It's that quick & easy!
Operating a minecraft server is fun, exciting and provides TONS of excitement for you and your friends!
But, if you wish to have your server player base grow, then you'll need to do more than just create a server, and wait for players to magically appear. You will need to tell people about it!
There are many things you can do to promote your new server.  Contact me via my discord server if you would like a bit of guidance for the proper steps you can take to help build your server into something that is for more than just fun for the family & friends!  I will tell you how to get all sorts of FREE tools and services that you can use to help grow your new servers player base!