RLCraft is a modpack unlike any that I have ever had the pleasure of playing.  This RLCraft guide was created to help you learn things.  These are things you'll need to know in order to survive on an RLCraft server.
It takes minecraft to a whole new level of fun, in an extremely challenging way.  The survival rate when you play this modpack is absolutely crazy.  Quite honestly if you dare to even attempt to survive with RLCraft, you most likely will NOT last past the first hour!
There are so many hostile mobs, temperature changes, hunger, thirst, wounds….the list seems endless.  The more I play, the more I realize, there is something else just around the corner that is intended to kill me.
If you are looking for a Guide that will explain how to survive in RLCraft, then the only thing I can say is…Good Luck!  I still have not figured out how to SURVIVE in RLCraft myself, and I sure have tried!  I have learned a few things about surviving one moment at a time.  Here's the basics, and a few tips that help me survive longer than 15 minutes at a time in the game.
The RLCraft Guide To Getting Started
When you first begin, Flint and Shelter should be your ONLY goals!  Well, unless your new world spawns you in a desert or snowy mountain.
If you are attempting single player, and you find your new world has placed you in the desert…you may as well delete the world and create another.  A new player will absolutely NOT survive in the desert!  The thirst is too strong, you'll die before you find water!
This is the same for snowy biomes.  You will freeze to death before you find anything useful for survival.

If you are attempting multi-player, then you will need to play on a server that is VERY player friendly!  RLCrafters.ca is the server I play on when I want to play with others.  Click here for more information about this server.  I have played on many many servers, and RLCrafters.ca is certainly my number one choice when it comes to playing RLCraft!
Beginning Your Epic Adventure!
Once you login, the first thing you will want to do is walk, and walk alot!  You need to find gravel for flint, and a place to use for shelter.  The RLCraft modpack does generate ample buildings and structures.  These can be used for shelter, so it should not take you too long to locate a semi-safe haven.
You should locate some water and scrounge for gravel.  Acquiring a piece of flint should be your number one goal when you first begin.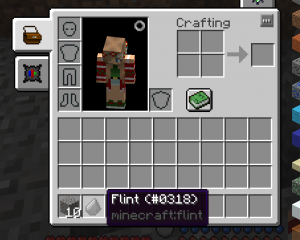 Once you have found flint, you will need to break it on a hard rock like stone or cobblestone.  Some blocks are not deemed hard enough to break flint, so you'll have to locate a block with a hard enough surface.  I usually hold onto my flint until I locate shelter, then I break the flint on the structure walls.
Next, go break some leaves with your fist until you obtain a stick.  Use the stick and a flint shard to craft a cool flint knife.
You can now use your knife to go cut some grass.  As you cut, gather all the seeds and plant fibers that drop, you WILL need these!
You can take 3 fibers and craft them into a string.
Once you have the string crafted, take another stick and flint shard and craft a flint hatchet.
You can now begin the process of chopping wood and building your first set of wooden tools!
A Few RLCraft Guide Tips:
You absolutely must find shelter.  I suggest that you locate shelter before you begin the process of building your first tool, or even looking for flint.  When you die, you lose your items.  Shelter is something most important to gain when you first begin.
Hopefully you have found shelter that has a chest in it.  If not, then keep looking.  A chest is important to use to save any items you build.  At least until you have a strong and secure base in place.
Once you have secure shelter, you need to start the process of building a secure base.  Dragons create a lot of fire damage.  If your structure has any wood on it, you will need to replace wood with stone as quickly as possible!  Your main base should be built underground.  It's best to start digging a shaft in the middle of the room where your current shelter is located.
Once you have dug at least 10 levels deep, then you can begin the process of building a nice storage room.
Save EVERYTHING, from seeds, to fibers to sticks!  When you first begin, EVERYTHING has great value!
Craft a bed as soon as possible.  You can kill sheep with your bare hands to gather wool, or you can craft wool using 4 strings.  Set your bed spawn point so that you can return to your home when you die.  YOU WILL DIE…if you have not already done so!!
A Bit More RLCraft Guide Information To Help Your Adventures!
If you do not have a canteen or water bottle, then the only way to re-hydrate is to crouch (sneak).  Sneak near a water source, and dip your right hand into the water. The water will not be purified so you will get a bit of poison.  A little poison is better than extreme dehydration!
When mining, you will notice that rocks fall instead of cobblestone. 4 rocks will make one cobblestone block.
When crafting torches, they will be unlit. You will need to place the torch on a surface, then light it using flint & steel.
EXPLORE! There are many structures generated, and in them you will find chests loaded with all sorts of items if you wish to survive! I located an inn one time, and in it were chests filled with all these goodies shown below! This really made survival a lot easier than trying to run to a river to re-hydrate.  Water bottles and canteens are hard to craft when you first start out!
There Are Other Things You Should Be Aware Of!
With that being said, one more thing before I conclude this tutorial.  Here you can see I found me an iron sword, which I feel would make a great weapon for any new player! BUT, I could not use the sword 🙁  I was able to wear the leather armor, but the iron leggings and sword…nope, as a new player, I was not ready to use those yet!  Any time I would try to use either, I would get a message saying that I did not meet the requirements to use that item.
RLCraft is nothing like Vanilla Minecraft, you will have to level up some skills before you can do some of the most basic functions.  Want to farm?  Yeah, well good luck, you can't use a Hoe until you get to level 2 with farming skill.
You will need to level up in order to gain points that can then be allocated to whichever skill you desire to use.  I suggest that you first level up farming enough to where you can grow wheat, attack to where you can hold mightier weapon and defense where you can wear stronger armor.  Once you are in iron gear with an iron weapon, you will be able to fight off most of the mobs that are the typical minecraft types like zombies and skeletons.
Once you begin playing the game, you'll see that most of the "recipes" are the same, yet many are different than those in Vanilla Minecraft.  There is a recipe guide that displays all of the recipes in the game.  This guide is easy to search and easy to use.  Once you have crafted a bed, you'll then want to craft a few canteens, one to hold, and some backups to use when you die and lose all of your gear!